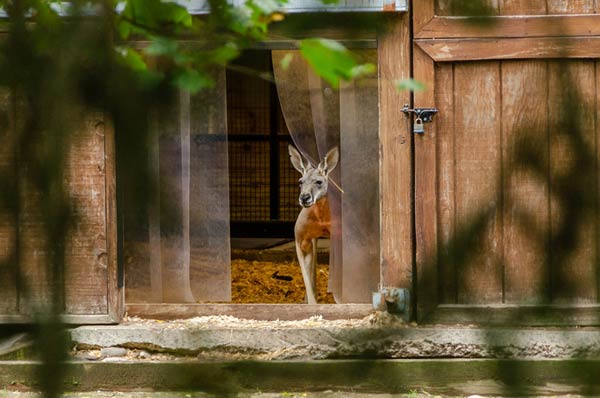 Today, Capron Park Zoo is municipally owned and operated by the City of Attleboro and, but the Zoo's earliest days were made possible as a result of community support, first initiated by a penny drive led by Attleboro school children in 1925. That effort ultimately led to opening of Capron Park Zoo in 1937 on 8 of the 33 acres donated by the Haford A. Capron family for Capron Park, which was designed by the firm of Frederick Law Olmsted, the noted landscape architect who laid out Central Park in New York City.
Since the Zoo's founding, numerous buildings, facilities and exhibits have been added over time: Bear/Lion Building, Otter Building, Sadler Building, Nocturnal Building, an amphitheater, Rainforest Building, the Kangaroo Yard, an Animal Treatment Facility and several satellite exhibits. In the mid-1980's, the Zoo underwent a major redesign of the park and upgrade to federal zoological maintenance standards over a four-year restoration effort that included a concessions stand, zoo offices, gift shop, staff lunch and locker room, restrooms and a classroom, and reopened in May 1990. The popular SplashPad recreational area was added in 2010. Most recently, the Samuel M. Stone Rainforest Exhibit at Capron Park Zoo underwent a one-year renovation and reopened to the public in the fall of 2018.
Throughout the year, the Zoo offers activities and educational programs dedicated to furthering the understanding of animals from all over the world. The Education Department offers a Docent Program, Zoo Interpreters program, special events, summer programming, vacation week programs, story hour, on-site Zoo class programs and outreach programs.
Capron Park Zoo is an accredited member of the Association of Zoos and Aquariums (AZA) and Association of Zoo and Aquarium Docents (AZAD), and participates in the Species Survival Plan program to help ensure the survival of selected species in zoos and aquariums, most of which are threatened or endangered in the wild. Currently, the Zoo houses two critically-endangered species: 1) Red Ruffed Lemurs, one of two species in the genus Varecia, native to Madagascar, and occurring only in the rainforests of Masoala; and, 2) a Brush Tailed Bettong, an extremely rare, small marsupial that belongs to the genus Bettongia and is endemic to Australia.
Each year, Capron Park Zoo welcomes more than 120,000 visitors, with its busiest day seeing approximately 2,000 visitors.